The Fun Empire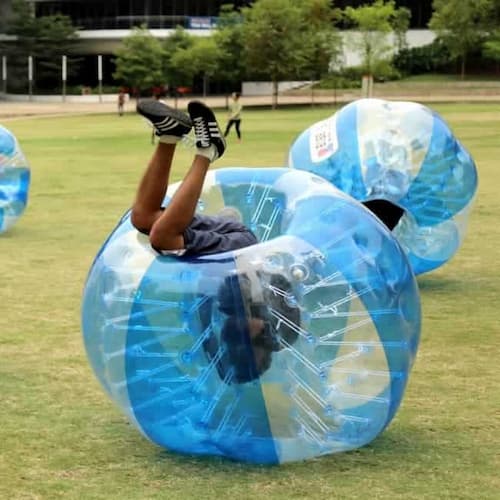 Looking for a fun and unique way to celebrate a special event or just have some fun with friends? Look no further than The Fun Empire! Fun Empire is Singapore's best bubble soccer provider, and they offer the fun experience that is sure to please everyone. Their bubbles are made of durable PVC material and can accommodate people of all sizes. Whether you're looking for a birthday party idea, team-building activity, or just something different to do on the weekend, The Fun Empire is the perfect choice!
What is the bubble soccer activity provided by Fun Empire?
The biggest and most trustworthy bubble soccer provider in Singapore is FunEmpire's Bubble Bump Singapore. They've organized more than 20,000 team-building, cohesion, and gathering events. Play bubble football and other fantastic Bubble Bump games like as bubble soccer, a version of soccer but with inflatable balls. They provide a variety of game modes that promote team bonding and cohesion. All of these fantastic games are both safe and appropriate for children and adults, allowing friends and coworkers to have a good time together!
Why is Fun Empire the best bubble soccer provider in Singapore?
Bounce into the world's most popular game with Fun Empire. From rare and classic balls to inflatable goals, Bubble Soccer equipment, and more, they've got it all. Stop being concerned about your event. At night, sleep stress-free with FunEmpire assisting you in planning the greatest event experience for your team building, date night, friends get-together, or cohesion.
Best & Most Professional In The Industry
They are the largest provider of adults-sized and kids-sized bubble soccer suits in Singapore that can accommodate hundreds of participants at the same time.
Clean & Safe Bubble Soccer Equipment
They are the only firm in Singapore to use custom-made sweatproof straps to guarantee sanitary usage. After every game, their bubblesuits are also cleaned and kept.
Bubble Soccer Games Are Offered in A Huge Collection
With the world's most extensive collection of Bubble Soccer games, they may accommodate a wide range of Bubble Soccer occasions (corporate events, school programs, team building, and more) for people of all ages.
Facilitators That Are Qualified & Professional
All of their facilitators are professionally trained facilitators that have completed their own, unique ASEA™ Facilitator Training Program, which is ISO 9001:2015 Certified.
Award-Winning Bubble Soccer Experience
A fresh take on bubble soccer with a Proprietary and Award-Winning Bubble Soccer Experience. There will be no more comparing of numerous costs. The Best Value Bubble Soccer Experience with Mini Bubbles is available for $15/Pax.
One-Stop, Hassle-Free Experience
They want to give you a stress-free, one-stop bubble soccer Singapore experience that caters to all of your events' demands, all tailored to your preferences. They've got you covered, and they're here to help.
Convenient, Near MRT Central Locations
The company, which has a base in Singapore, also runs events and rentals at various locations across the city-state. They offer several sites, including air-conditioned rooms. There are also private venues available.
The Fun Empire
Besides being a provider with significantly good event company reviews, The Fun Empire is also a team building company that's considered Glassdoor influencer Singapore. If you're looking for ideas to organize a team building event or celebration, do consult Fun Empire - a good game empire in Singapore for more insightful recommendations.
If you enjoyed reading this, you might also like: