Virtual Team Building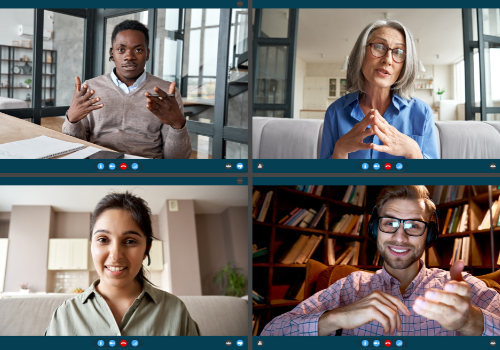 Summer is the perfect time to start thinking about virtual team building to stay connected and engaged with your friends from anywhere! Virtual team building games have taken the world by storm, and more and more businesses, organizations and individuals are using virtual team building activities to bring their teams together. In this blog post, we will discuss 4 of the most popular online team building games that are currently trending in 2022. Whether you're looking for a new way to bond with your team or you're just getting started with virtual team games, these options are sure to please!
Virtual Escape Room
One of the most popular virtual team bonding activities is the Virtual Escape Room. This game puts players in a series of puzzles and challenges that they must solve together in order to escape the room before the time runs out. Virtual escape rooms are great for team building because they require players to work together, communicate effectively and use their problem-solving skills. There are many different Virtual Escape Rooms to choose from, so you can find one that fits your team's interests and skill level.
Virtual Amazing Race
One of the other famous virtual team building ideas is the Virtual Amazing Race. This game is similar to the reality TV show, The Amazing Race, where teams compete against each other to complete challenges and tasks in order to win prizes. The Virtual Amazing Race is a great way to get your team working together while also having fun and competing for prizes. There are a number of different Virtual Amazing Race courses to select from, so you may pick one that best matches your team's interests and level of experience.
Virtual Time Travel
This is one of the newer virtual team building games/activities but it's already becoming a favorite. Players in Virtual Time Travel must collaborate to complete challenges and errands from various historical periods. This game is excellent for team building because it combines communication and problem-solving abilities while also requiring players to work together as a unit. Virtual Time Travel is a fun and easy method to get your team thinking outside of the box while also strengthening their bonds.
Virtual Food Quest
This game is perfect for the foodies on your team! Virtual Food Quest is an online scavenger hunt where teams must find and collect ingredients to make a specific dish. This game is excellent for team bonding because it necessitates players to interact and collaborate in order to discover all of the essential components. It's also a lot of fun for everyone involved and is a great way to bond over a shared love of food.
Virtual Team Building
So, there you have it! These are just some of the many virtual team building games that are trending in 2022. If you're looking for a fun and unique way to bring your team together or you're just getting started with online team games, these options are sure to please. Digital team building activities are a great way to build relationships, improve communication and problem-solving skills, and have a lot of fun in the process! Thanks for reading and we hope you have a great summer!
If you enjoyed reading this, you might also like: