Workshops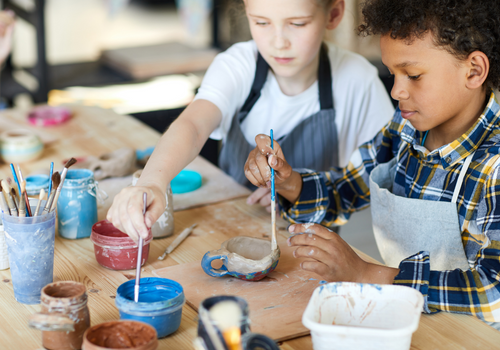 2022 has passed half the way, and that means it's time to start planning your creative workshops for the year! There are a ton of fun workshops in Singapore out there, but we've narrowed it down to our top 5 favorite art workshops in Singapore. Whether you're looking for a workshop on pottery ideas, painting, or even cake decorating, we've got you covered. Keep reading for more information on each of these amazing workshops!
Clay Making Workshop
One of our top picks for creative workshops in Singapore has to be the Clay Making Workshop by The Workshops. In this workshop, you'll get to learn how to make your own pottery from start to finish. You'll start by learning how to prepare the clay, and then you'll move on to shaping and glazing your piece. The best part about this workshop is that you'll get to take home your very own hand-made pottery piece at the end!
Flower Embroidery Workshop
If you enjoy the art of handmade crafts with threads and needles, the class "Embroidery on tote bags" is the place to be. Embroidering activities will put each participant's attention, precision, and patience to the test. The more beautiful the tote bags are, the more confident you'll be carrying them on your shoulder. Tote bags are both convenient and environmentally friendly in terms of storage.
Flower Arrangement Workshop
For flower enthusiasts, the flower arrangement workshop should not be missed. This simple flower arrangement class is one of the ways for you to learn more about yourself, accompanied by the message "Flower arrangement is not only a type of relaxation that makes you feel good, but it also aids in self-discovery."
Wine Tasting Workshop
For the chance to sample and understand a range of organic wines, you may register for the "Organic Wines Tasting" course. After a hard week, it's nice to get out of the house and do something different. Wine tasting activity can help you unwind and have interesting experiences.
Scented Candle Making Workshop
The candle-making workshop is the ideal activity for individuals who wish to create their own fragrant candles. Attendees of this workshop will learn about aromatic candles, light-therapy, and their applications. The most fascinating aspect of this project is to finish it with delightful odors such as jasmine, lily, orange flower, cedar, patchouli, amber, and leather.
Cake Decorating Workshop
Cake decorating is a fun and creative activity that anyone can enjoy. In this workshop, you will learn how to make your own cakes and cupcakes from scratch. You will also learn how to decorate them with icing, fondant, and other decorations. This is a great workshop for people of all ages and skill levels.
Workshops
So, there you have it! Our top five creative workshops in Singapore for 2022. We hope you enjoy attending these workshops and learning new skills. If you're looking for more information on any of these workshops, or if you have any questions, feel free to contact us. We would be happy to help!
If you enjoyed reading this, you might also like: