Workshops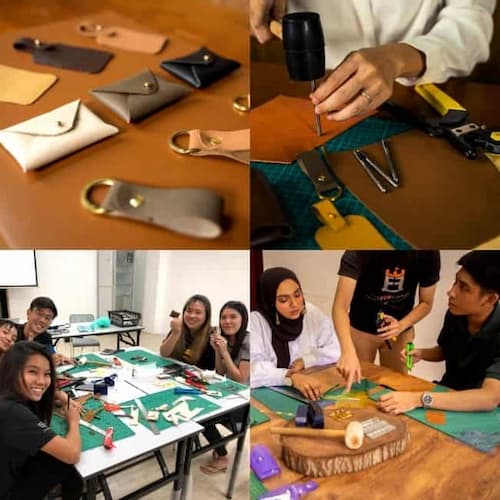 Workshops in Singapore are hugely popular, and for good reason! Workshops in Singapore offer a great way to learn new things and meet new people. In this post, we will take a look at the 5 most popular and fun workshops in Singapore Summer 2022. Whether you're interested in cooking or photography, there's sure to be a workshop that suits your needs!
Leather Crafting Workshop
One of the most popular workstores in Singapore is the leather crafting workshop. In this workshop, you will learn how to create beautiful and unique leather products. You will also have the opportunity to meet other like-minded people and make new friends.
Craft Paper Workshop
Dry Ink's artwork is created with risograph (or riso), a Japanese printing method derived from soybean oil that blends screen printing and automated production. Risograph is the most popular method of producing art prints in the world. In Singapore, you may participate in workshops craft to create and print your own paper goods such as posters/postcards/pictures/catalogues. Fine arts may be learned through art workshops in Singapore, which aim to instill a creative and aesthetic attitude among participants.
Perfume, soap, candle Making Workshop
If you enjoy doing DIY cosmetics, these workshops will be the perfect place to host weekly workshops on a variety of topics, such as making scented candles, essential oil fragrances, or organic soaps. Exposure to and usage of natural essential oil extracts-based medications are also excellent methods to enhance mental health. Using natural fragrances to stimulate the sense of smell has been found to reduce tiredness, anxiety and stress.
You will learn a lot of information about aromatherapy, aromatherapy, and in particular, be able to produce your own handmade items or give as gifts if you choose to attend these classes.
Chocolate Making Workshop
Nothing says love like chocolate! In this workshop, you will learn how to make your own chocolates from scratch. You will also get to taste some of the best chocolates in Singapore. This is a great opportunity to meet new people and learn about a new hobby.
Calligraphy Workshop
Calligraphy is a popular form of relaxation for many individuals. It allows you to express your creativeness and taste while also allowing you to discover yourself through words. If you're a first-time writer, our calligraphy lessons are a short course to help you sharpen your basic skill set.
Typically, calligraphy courses last three sessions and demand commitment from participants. With every brush stroke you learn more about drawing processes, get immersed in each one, and also receives a take-out kit. The classes will have a different topic, ranging from classical to current calligraphy styles.
Art Jamming Workshop
Painting jamming is a way to bring peace and pleasure to everyone through painting. All skill levels are welcome at Art jamming sessions, whether you're a beginner with a brush or just interested in painting without the time to devote.
During this course, participants will work on their preferred painting technique and materials while being led by professional facilitators in a group setting. There will usually be three hours of instruction with a range of themes to each painting session, which will bring it all differently. You may sign up to draw alone, with friends, family members, or coworkers.
Workshops
These are just some of the workshops that are available in Singapore. If you're interested in learning more about workshops sg, be sure to check out our website. We offer a wide variety of art workshops in Singapore, so there's sure to be one that's perfect for you. Thanks for reading!
If you enjoyed reading this, you might also like: