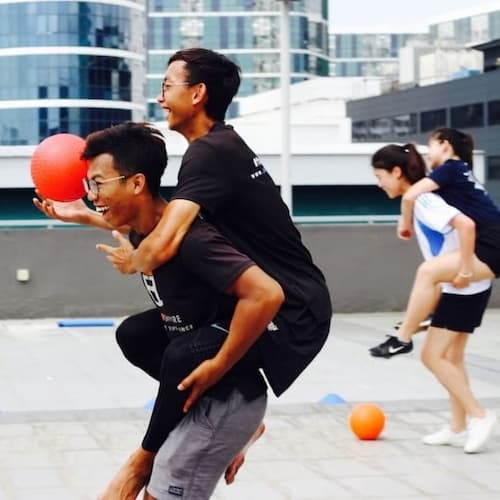 Corporate Team Building Activities Singapore
Corporate team building activities are a great way to get team members out of the office, away from work-related stress and into a fun environment where they can team up with one another. In fact, team bonding activities Singapore 2022 help make your team more effective because it helps them communicate better and become more creative. It also fosters trust among team members which is essential for success!
You can also check this awesome Leather Workshop Singapore if you want to know try this amazing workshop with your colleagues!
Benefits Of Team Building Activities
1. Improves communication
To begin, team building exercises aid in the improvement of communication. Everyone must work together as a team and communicate as such to resolve issues in order for everyone to succeed. Divide your group into equal teams and have them compete against each other in games. It's the same goal as yours: to win. It forces everyone to interact and think of strategies in order for it to become a reality. That's when you notice your coworkers speaking to you in a less formal tone, which breaks the seriousness of the workplace. The effectiveness of team communication can be carried over into everyday life, resulting in improved productivity and efficiency.
2. Being able to ease conflicts
Let's face it: you can't possibly satisfy everyone at your workplace. Whenever there are differences in personality and viewpoints, conflicts are inevitable. This might result in negative outcomes such as not being on speaking terms or even prejudice against a coworker. However, there is a solution to this! Encourage your team to take part in team building activities once a month or even quarterly. This is so that everyone may engage with one another and develop rapport and friendship.
Furthermore, make sure the games you choose encourage employees to get familiar with one another on a personal level. Begin by playing an icebreaker game where everyone may unwind and become comfortable with their group mates. Keep in mind that conducting them at the workplace is bad for your employees since it places them in an environment where most conflicts originate!
3. Motivates you to do better
The culture of a sports team should be adopted by every business. Working as a unit to achieve a common aim and celebrating after winning any major competition is what it's all about. When you win against your coworkers in a friendly game, this also applies to any team-building activity. Celebrations are a great way to show your team how much you appreciate their hard work and dedication. They will be more driven to succeed in their careers and achieve even greater milestones as a result! Always go out of your way to acknowledge the triumph, no matter how big or little the success is!
4. Teamwork makes the dream work
It's nearly impossible to escape from doing tasks at work. Projects require the participation of a number of people. A successful team is one that collaborates rather than competes individually. When you're just getting to know your teammates, it might be difficult to collaborate as a group. Team building activities can help you better understand one another, build a stronger relationship, and identify each other's strengths and limitations. As a result, people won't dread doing projects since they know their input would be valuable.
5. Build on that trust
It's natural to build a barrier as a defense mechanism, especially when meeting new individuals. At their first few encounters, no one can immediately trust someone. It takes time to develop trust. With team building exercises in place, it does exactly that: increasing employee and peer trust. In addition, they aid in the decentralization of the company hierarchy and bridge the gap between bosses and employees. Team building games lower barriers to communication by placing the superior authority on a level playing field with their staff. In other words, be a friend to your workers!
Best Corporate Team Building Activities in Singapore
Painting sessions might be a lot of fun, especially if they are relaxing, interesting, and beautiful. Create a masterpiece that you can proudly display in your own house or at the workplace by using your imagination. Acrylic paints, canvas or tote bags, paper and erasers are all supplied. Don't hesitate to use the Canvas or Tote Bag session if you have it!
At the end of each event, our experienced facilitators will go over the foundations of color mixing and provide advice during your virtual meeting. There will be a debriefing and storytelling session at the end of each event as requested. Perhaps you'd want to give this activity or any of our team-building activities in Australia a shot!
Laser tag is a team-building activity that offers exciting activities for both children and adults to participate in. This game may be played outside or inside, making laser tag an easy method to add to your team building event!
There are a few of goals to choose from, such as Capture the Flag, Mission Impossible, and Domination. The many game tasks will enhance team bonding and collaboration. It's also great for bachelor parties, birthdays, and other parties.
You may do our well-known leather crafting class at home. We'll send you a leather-making house kit before the start of your virtual team building session. You'll be able to ask knowledgeable assistance during your online meeting!
We'll look at some unusual possibilities on a number of leathers, as well as how to maintain and improve your own goods! You'll be able to make not one but two items! (for example, Key FOB and Coin Pouch) For such a low price, you may have it all.
Your group has come across a bank blueprint with notes scrawled on it, and it's now your chance to join the fun! With your gang, you must complete the Huge Gold Heist. You and your crew members must break into vaults, fill treasure bags, and flee before the cops find you! As you progress, the vaults will become more difficult to breach. Are you up for the challenge? This might become one of your new favorite team activities in Australia!
The world's first and only Virtual Time Travel experience is now live! This experience is for you if you've ever wondered whether time travel is possible. To transcend time with your pals, sync your watches and solve issues from various eras and time zones. Compete against the timer to finish your task on schedule!
The goal of this game is to put your team's problem-solving abilities to the test. One of the most creative and amusing group building games ever created! To begin, you only need two people, and there is no limit to the number of individuals who can join! Travel through time to be a part of today's top teams!
Are you in need of a fun activity to do with your friends or coworkers at home? The Fun Empire has transformed the popular and award-winning workshop into a digital experience. Our Terrarium Home Kits are delivered straight to each player's house, ensuring that they are first!
Learn how to create your own tiny garden with our highly trained instructors, from start to finish. All you need is a little space and some imagination. The final touch adds elegance!
This is another fun team game to add to the list. Learn how to create your own clay figure or charm. It's also a wonderful method to show gratitude for family members! We only use high-quality air dry clay that is lightweight and adaptable, as well as non-toxic and kid-friendly.
We'll go over the fundamentals of color mixing, basic shapes, and essential skills for molding and handling clay in this live virtual clay workshop. Let your imagination run free as you create whatever you like; there are no restrictions!
Who is the smarter among your coworkers? This is a good game to play with your teammates to see who has the greater brain. It necessitates communication, body-language reading, and persuasion. Each member of the team was assigned a role, such as murderer, detective, or superhero. Which side will win?
We'll be holding a Virtual Nightfall session for you and your group with our professional facilitator. Simply reserve a personal session with us at your preferred date and time! You'll have a one-on-one conversation with the instructor where they can answer all of your queries and guide you through any difficulties you come across. The secret to our success is that the briefing and facilitation are all done so you can simply relax and enjoy spending time together! In this mental game, you'll learn about each other's strengths and flaws, which will undoubtedly make for a fun team building activity!
Archery Tag is a combination of dodgeball and archery activities that is fun for people of all ages. Teams are put in a fast-paced competitive environment where they must shoot one another while avoiding being shot themselves. The game is extremely safe since players use foam-tipped arrows and face masks to enhance protection.
The numerous objectives, such as The Revival and The Last King, are fantastic team-building exercises since they demand exceptional collaboration, communication, and resourcefulness. Have you ever wanted to act like Katniss Everdeen from The Hunger Games? If that's the case, this is the ideal game for your next team bonding session!
The Fun Empire's renowned expertise is now available online. This platform was created to allow players to tackle challenges from the comfort of their own homes. From two to hundreds of people, this virtual game can handle it all. Take advantage of this opportunity to put your analytical and interpersonal skills to the test! For your next team get-together, this is a fantastic corporate team building exercise.
SaberFit is the world's first group fitness workout, and it's a toning experience you'll love. It may now also be experienced online and virtually from the comfort of your own house! This fat-burning workout incorporates high-intensity interval training (HIIT) and saber techniques for a comprehensive fat-loss program! It's a fantastic team exercise for you and your coworkers to do together! While working out, encourage one another!
There are no restrictions whether you're working alone or with coworkers. You might even collaborate to see which of you can finish it first! A private one-time event for just you and your guests is also an option! Tell us what you want, and we'll make it a reality for you!
Do you have no idea what sort of virtual hobby to join? The Fun Empire has a variety of options for you! Take you on a journey across Singapore's many eras of history by participating in the Virtual Amazing Race, Treasure Hunt, and Virtual Escape Room Experiences.
Participants will collaborate together in an online team to solve interesting and engaging riddles while also learning more about the nation in an innovative and immersive virtual environment. Complete all of the missions to see how the exciting narrative concludes! This is the ideal team-building game if you're stumped for an Australian team-building activity to do with your coworkers! Challenge your international teammates to play the Virtual Travel Experience right now, with no limit on the number of players, and have fun together!
Have you ever considered traveling across the globe and competing? Look no farther! Compete with your friends and coworkers to see who can be the first to finish without revealing any of the game's secrets! We don't want to ruin it for you, so we'll keep all of this information under wraps.
Our instructors have been trained by the top experts in the business for a safe and exciting experience. Our masters will work with certified trainers to ensure that your event is more memorable. There is no restriction on the number of people who can compete, making our amazing marathon an appealing alternative for remote workers from across the world!
Play a variety of amusing and entertaining party games over video conferencing to get your guests giggling! The activities are intended to foster team bonding and goodwill through laughter and enjoyment. This is a facilitated event organized by qualified facilitators. To add to the intrigue, the winner of the virtual party will get something! This game is a great team-building exercise in Australia. Let the games and giggling begin!
In Australia, one of the most fun and entertaining team building activities is Bubble Soccer. Bounce around energetically with your coworkers and friends without hurting anyone. Collaborate and plan with your team members to enhance your chances of success. Get into a state of relaxation while you take advantage of a successful cohesion and team bonding session.
Race your colleagues in specially designed Go-Kart cars to see who has the best speed driving skills! Team members get to select their desired track ranging from the world renowned international racing track to karting arena track. Participants with a valid driver's license get to choose faster Go-Kart cars, while non-drivers will have to drive slower Go-Kart cars. Have fun maneuvering the different twists and turns on the track as you attempt to come in first at go kart Singapore west coast!
Best Team Building Venues
1. FunEmpire HQ
Bouncy castles, a pool and many other amazing features make up FunEmpire HQ on Mountbatten one of the greatest birthday party Singapore locations. Simply reserve one of their numerous exciting activities, and you'll have a fantastic corporate team building experience in a safe and fun team building venue Singapore!
2. Hyperspace
Hyperspace is Singapore's leading event space provider, with over 3000 square feet of capacity. As a result, it would be a good fit for your next corporate team building activity!
Hyperspace is conveniently located near Lavender and Bendemeer MRT stations with a complete range of services, including a Nintendo Switch, karaoke system, board games, pool table, foosball, and more. There are several cafés, restaurants, and a shopping mall in the area as well!
Corporate Team Building Activities Singapore
There are plenty of corporate team building activities in Singapore to choose from. Whether you want to race your colleagues in go-karts or play party games, there is something for everyone. Our list of corporate team building activities provides a variety of fun and engaging options that will help your team bond and have fun together. So what are you waiting for? Contact us now!
You can also check this awesome Leather Workshop Singapore if you want to know try this amazing workshop with your colleagues!
If you want to read more interesting articles, follow the links below: