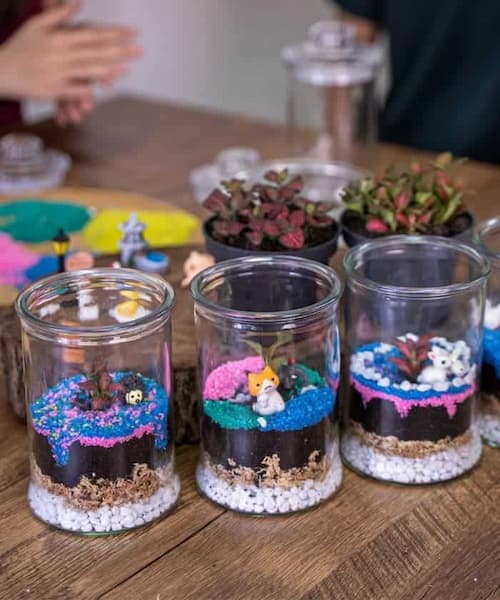 Terrarium
Do you love plants? Do you have a green thumb? If so, you may be interested in terrarium Singapore. Terrariums are miniature gardens that can be housed inside of a glass container. Terrarium plant Singapore is a great way to enjoy plants without having to worry about taking care of them. In this blog post, we will discuss eight different types of terrariums that you should know about!
For Terrarium Singapore delivery, you can check out Terrarium Singapore, to receive your own terrarium supplies Singapore!
1. Open Terrarium Type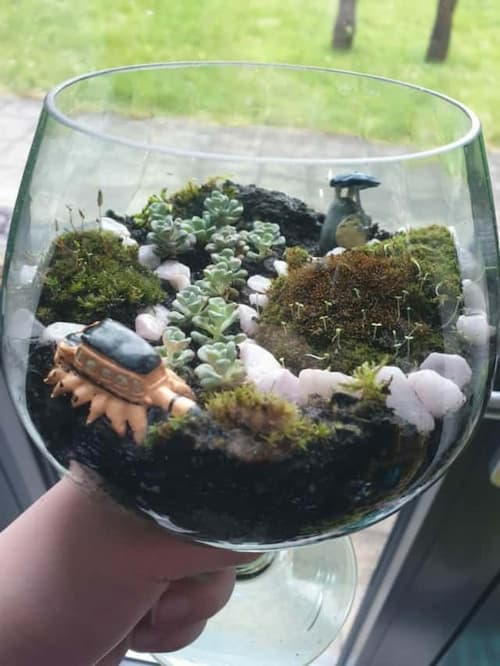 An Open Terrarium is well-suited for a wide variety of terrarium plants. As this type of terrarium is exposed to the surrounding air, this indicates that it doesn't have a water cycle. Therefore, you may find yourself watering the terrarium quite frequently as compared to the other types of Terrariums. However, the biggest benefit you get is that we would be able to control the moisture levels of the terrarium. The types of terrarium plants suitable for this type of terrarium are cacti, aloe succulents and air plants.
One thing to be wary when creating a open terrarium is that the terrarium plants might over grow the height of the container. Hence, you may need to repot your plants to create many more mini ecosystems.
2. Closed Terrarium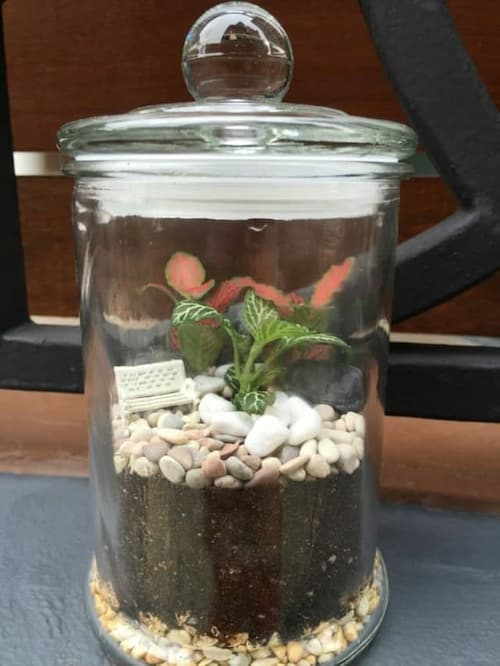 Closed Terrarium as the name states is a Terrarium that is enclosed in a glass jar. This is especially suited for terrarium plants that do not require much watering to be able to survive. Due to it being closed, the terrarium is slightly higher in temperature on the inside which actually helps to evaporate all the moisture that comes from both the soil and the plants. This is beneficial as it helps to terrarium plant to grow as it creates a water cycle within the terrarium itself.
Closed Terrarium tend to have a higher life span as compared to those of an open terrarium, that's if we just left it there without taking care of them. This is because of the nature of a closed terrarium, the water vapour that condenses in the closed jar goes back to the soil and the plant hence as we like to call it, a self-watering terrarium. This creates an endless supply of water for the plant and soil to survive. One key thing to note for a closed terrarium is that it shouldn't be placed under direct sunlight. This can actually heat up the whole terrarium and might result to it burning the plant in the end.
3. Dish Terrarium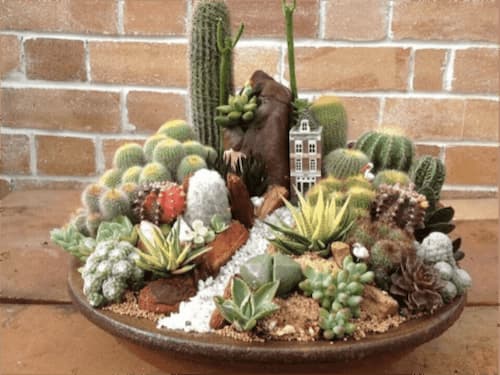 Sometimes making a terrarium in a terrarium making workshop Singapore takes up a lot of time. From deciding which type to make and more. This is where a Dish Terrarium comes into play. With this type of terrarium setup, you don't have to worry about all these considerations. This is because Dish terrarium plants are very manageable and convenient to build! Instead of using the "traditional" glass jar to contain the terrarium, you can use any plain and ordinary dish to build this terrarium.
One of a great benefits of having a dish terrarium as compared to the rest is the the space to create and arrange terrarium plants during a terrarium workshop Singapore. You can have multiple kinds of terrarium plant in this setup. But do note that the key component to creating a successful dish terrarium is that the first layer of the terrarium would be the gravels and then fill up slightly with potting soil and top it off with the terrarium plant of your choice!
4. Succulent Terrarium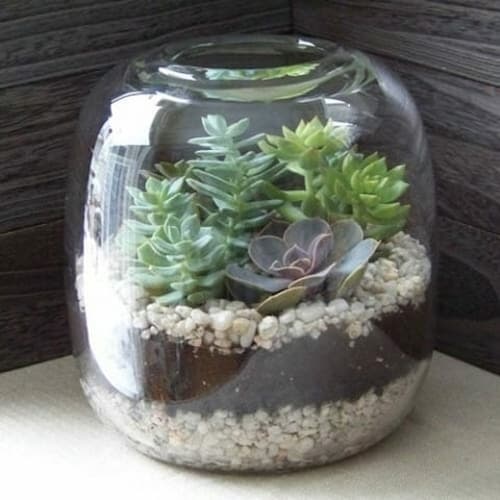 Succulent plants are the up and coming trend of 2020. Hence here is how you can make a terrarium out of just succulent terrarium plants! Succulents are also perfect for those who want to keep their terrarium indoors. This is due to their thick and fleshy leaves which stores water to allow the plants to survive without being watered most of the time.
Here's the tricky part of a Succulent Terrarium, to make it stand out from the rest, it would require assortment of mini succulents or even decorative. Plants are living things and they do need some friends or two, so include those mini succulents to give your plants some buddies to hang out with!
5. Floral Terrarium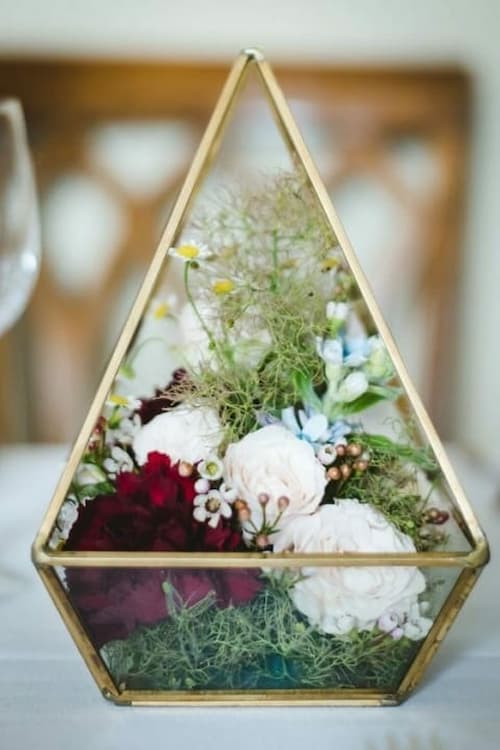 If you think that terrarium plants are just green in colour, that's where you're wrong! Bring out your terrarium's inner beauty with colourful flowers. Get your very own flower terrarium at flower shops around in singapore.
There are many types of Terrarium plants that blooms into wonderful colours! Some examples are the Starfish Flower Cactus, African Violet, Polka Dot Plant, Spiderwort or even the majestic Orchid. Elevate your terrariums to the next level by having these colourful plants. Bring much more colours to the ordinary "green" Terrarium. This would be a great conversation starter when your friends hop over to your place when visiting you!
6. Hanging Terrarium
Bored of the typical terrarium that's on the table top or just sitting at the corner? Why not taking it up a notch by creating a terrarium that hangs down! As it's hanging, do ensure that the ropes that you use are thick and sturdy enough to withstand the weight of the terrarium.
Hanging terrarium are extremely eye-catching as they hang down in your house. Go a step further by adding some fairy lights along the ropes to be able to create that WOAH factor. The hanging terrarium shouldn't be too heavy as it should be simple yet eye-catching for everyone!
7. Sustainable Terrarium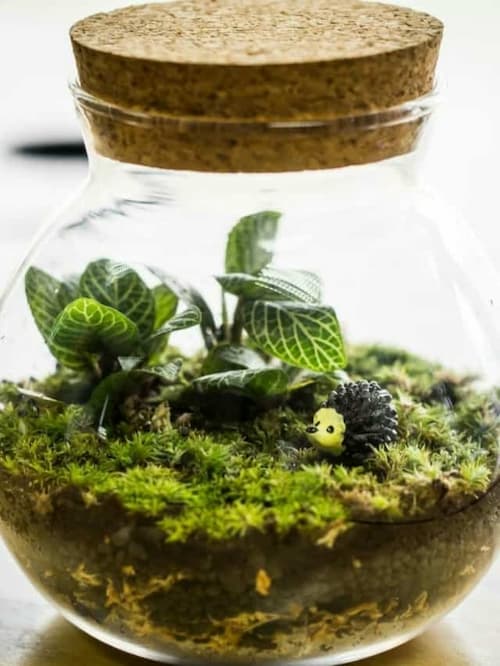 Want to save on that plastic bottle that you just consumed your beverages from? You can now reuse the plastic bottles to create terrariums too! From a plastic bottle to a aluminium can, you would be able to convert them into a new ecosystem. Go sustainable with such ideas and bring the terrarium to the next level! What's even more exciting is that you are able to convert your sustainable terrarium and to integrate it into a closed or opened terrarium or even a hanging terrarium! The idea is limitless!
8. Creative Terrarium Type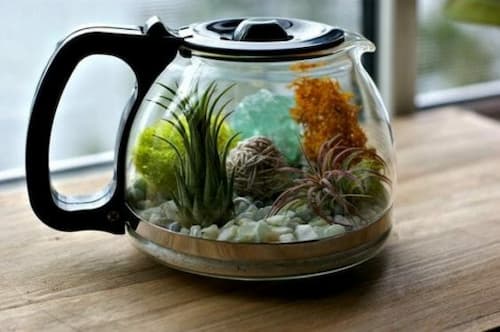 This type of terrarium would be putting your creative skills to the test! Take the conventional terrarium and spicy it up by painting the jars to bring some life into the "Plain Jane" terrarium. You can even think out of the box and experiment on having a terrarium in a French Press! There are countless of ideas for making a terrarium, what you can do also is to walk around your house and to see what you can do to hold the mini terrarium Singapore!
Terrarium
Terrariums are a great way to add some life into your home décor. They come in all shapes and sizes, so you can find the perfect one for your space. You can also get creative and make your own terrarium using recycled materials. terrariums are a fun, easy way to bring nature indoors.
If you want to know where to buy terrarium plants, terrarium kit, or ready made Terrarium Singapore, check out Terrarium Workshop Singapore!
You can also check Terrarium Workshop Singapore if you want to build your own terrarium!
If you want to read more interesting articles, follow the links below: